Dr Ashish K Gupta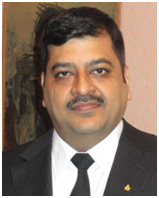 Dr. Ashish K. Gupta is a practicing senior surgeon in Delhi since 1989. Having done post graduation in general surgery, PG Diploma in Hospital & Healthcare Management, MBA- Healthcare Management from FMS Delhi, PG course in Quality & Accreditation of Healthcare Organizations and also in allopathic clinics, NABH Assessor course, he is an expert in organizational Development with focus in healthcare.
Dr. Ashish K. Gupta is presently the Director- Programs for Academy of Hospital Administration, CMD of Blue Ocean Consultants, a hospital & healthcare consulting company with focus on Quality Accreditation & system development. He has handled very important assignments for QCI- NABH since 2006 when the NABH standard for hospitals was launched in this country. Many private hospitals, nursing homes and medical college hospitals are also credited to his name where he has been extensively involved in planning, organizing and managing change that is a associated with quality implementation process.
Dr. Ashish K. Gupta is also a faculty, trainer & examiner for MBA- Healthcare Courses, PG Diploma courses for Quality & Accreditation, PG Diploma in Healthcare management courses and state trainer for accreditation of hospitals, PHCs & CHCs for the states of Gujarat, J&K, Haryana, Delhi, Kerala and Karnataka. He has trained and mentored a large number of the quality & accreditation manpower in this country.
Dr. Ashish K. Gupta is married & has two daughters. His spouse is an academician & is a Professor of Gynecology & Obstetrics at MAMC & Lok Nayak Hospital, Delhi.
Dr. Ashish K. Gupta is an excellent surgeon & is associated with Metro Hospital and Cancer Institute, Preet vihar, Delhi. He is an Organizational Development expert with exceptional understanding of healthcare systems, an important qualification for a quality & accreditation expert.