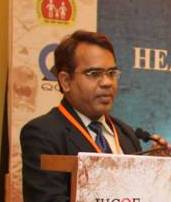 Dr. Ashish K. Gupta, has extensively and actively worked in the State of Gujarat in the period between 2008 to 2012 for providing consultancy and guidance for quality up -gradation of public sector healthcare services. He is still involved as a very important resource person for this activity in the State of Gujarat.
He has been a key guide and trainer for healthcare personnel both at the directorate of Health and Family Welfare as well as at the level of healthcare providers at hospital level ranging from tertiary care hospitals attached to the medical colleges to secondary care hospitals at district & sub -district levels, community health centres and primary health centres.
He has been a mentor and a teacher to those who have been instrumental in bringing this change for betterment in the healthcare delivery that it is now acknowledged to be the best in India. I acknowledge his efforts and appreciate Dr. Ashish K. Gupta for being a big force behind the improvements in the healthcare sector in the State of Gujarat.
Dr. J. L. Meena
State Quality Assurance Medical Officer
Gujrat Government